APCO Technologies (APCO) was founded by André Pugin in 1992 in Vevey, Switzerland.

Since its founding, APCO has operated in three different fields of endeavor, encompassing space, energy and naval.

This diversified business strategy has been a key enabler for APCO's continuous growth.

In 1997, APCO opened an office in Kourou to serve as a base for its operations and services to the European Space Port in French Guyana, becoming the first Swiss company with permanent staff here.

In late 2008, APCO moved 20 km away from its Vevey plant to Aigle, opening new, custom-built facilities tailored to the diversity of its activities and needs.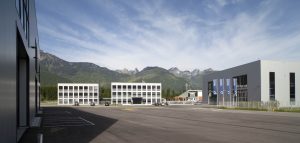 As a result of the company's rapid growth, the site has expanded significantly since, with a 2nd office building in 2013 and additional workshop space the following year.

In early 2018, a 7th manufacturing hall dedicated to activities for the new Ariane 6 rocket became operational.

This brings APCO's total workshop area to nearly 12'000 sqm, including ISO5, ISO7 and ISO8 cleanrooms independent of 4'500 sqm of offices, all confirming our vision of being an integrated partner for our clients with 100% of our industrial activities based in Switzerland.

APCO Technologies is family-owned and operated. In July 2017, a member of the second generation of the family, Aude Pugin, became CEO after acting as CFO for eight years.